As an Amazon Associate, this site earns from qualifying purchases.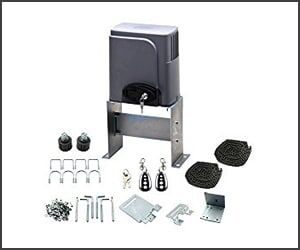 An automatic gate opener is a type of gate that generally uses a motor to function(they are also called or known as an electric gate). The best automatic gate opener usually has a set of features that set it apart from others.

How many times have you had to get out of your car to open your gate? What if you could just open it by pressing a button instead?
Automatic gate openers are useful devices, providing an easy solution to open and close gates.
Moreover, the popularity of gate openers has increased, today many top brands are offering automatic workable gate openers. There are different gate openers available on the market, and they come at varying weights, sizes, and prices.
This in-depth review and buyer's guide will help you to select the best automatic gate opener that suits your gate type.
Comparison Of The Best Automatic Gate Openers
The Liftmaster LA400PKGU Dual Swing Gate Opener is perfect for ornamental or large dual swing gates of up to 16ft long, or weighing 850 pounds (two arms are included). Apart from being a very reliable automatic gate opener, it features other functionalities that set Liftmaster apart from the competition. For instance, it comes with a backup battery that allows for up to 97 days of battery life in case the power is out for any reason.
Another amazing functionality is that it can be synced with MyQ app. This app allows the user to control your gate opener from anywhere using your phone or tablet, while also getting notified of any activity that goes on with the gate operator.
Additionally, the gate opener promotes energy saving by allowing the option to convert to solar energy.
It takes around 15 to 17 seconds to open the gates to a 90-degree angle.
Moreover, installation is easy with a led diagnostic display for troubleshooting.
Pros
For heavy-duty gates
Supports gates weighing 800lbs
24 months manufacturer warranty
Solar conversion option
MyQ integration for gate monitoring via phone or tablet
Includes backup battery
LED display for installation and troubleshooting
Cons
More expensive than other models
2. Ghost Controls TSS1XP Heavy-Duty Solar Single Automatic Gate Opener Kit for Swing Gates Up to 20 Feet (ft.)
The Ghost Controls TSS1XP is a great choice for agricultural or tubular single swing gates (although there are dual-gate options available as well). The product comes with tube gate adapters that ensure the opening and closing of these types of gates up to 20ft. in length. The gates are opened and closed in a motion range of 90 degrees within a 15-second span.
Moreover, Ghost Controls back their product by providing a lifetime warranty on the motor, gear assembly, and 18 months on all other parts.
However, a limitation of this kit is that there is a 12V battery needed that is not included. Nevertheless, this battery system is convenient because it allows the user to operate the gate even when the poser is out. Furthermore, the model has the capability to use solar power to recharge the battery. Thus, a 10W solar panel is included for this purpose.
Also, it includes a long-range remote control that works up to 1000ft away.
Generally, customers report this as a complete DIY task and that the gate opener is very easy to install.
Pros
Easy to install
Long range remote
Comes with a solar panel for charging the battery
Easy to install with thorough manual and instructions
Heavy duty gate opener for 20 ft. gate and 300 lbs.
Lifetime warranty on motor and gear assembly
Cons
Battery sold separately
This product is able to open gates of up to 1300lbs and 27 ft. in length. additionally, an option for a soft start and slow stop is available, which extends the lifetime of the gate opener, and promotes safety.
Additionally, the closing time of the gate is adjustable to "no automatic closing time" or 12, 24, or 36 seconds. Moreover, its photocell functions allow for automatic opening whenever the infrared photocell sensor detects movement. Therefore, these functionalities together prevent any unnecessary accidents.
In case of power failure, or if there is a need to open the gate manually, it can be done by using the key that comes in the kit to switch to manual mode. This will release the opener's lock on the gate, and allow you to push it if necessary.
However, customers report that the instructions are not as clear for a DIY installation. But, it can still be done. On the flip side this is a relatively inexpensive product that gets the job done.
Pros
Excellent Value for money
Works with long and heavy gates
Gate opening and closing options and flexibility
Slow stop and soft start function with the Intelligent Control Board
Cons
Installation instructions could improve
No solar option
Another popular brand on the list is the ALEKO AC1400 Electric Sliding Gate Opener. It is the perfect option for large and heavy sliding doors. The product is affordable for the power it boosts for heavy-duty operations.
The chassis is made from steel, that gives the ALEKO AC1400 added strength required to move gates that weigh 1400lbs and are over 50ft in length. More importantly, the gate opener is lightweight despite the powerful motor and steel chassis. Hence, making it easy for a single person to set up the gate.
The installation is easy, thanks to its DIY guide with clear instructions. The exterior parts of the gates are covered with a corrosion-resistant metal that gives added protection and longer life. Ideal for extended use throughout the day.
The installed motor provides high performance with a long chain. It has two sensors and a high base. The highlighted feature is that the gate opener automatically stops and returns to its original position if an external object is stuck while closing or opening the gate.
Pros
Perfect for heavy doors
Real option for heavy-duty work
Affordable
Easy to install with easy to follow DIY guide
Steel Chassis gives extra durability
Corrosion resistant for long life
High performing motor
Cons
Small feed hole chain
Upper and lower brackets not adequately labeled
5. Mighty Mule Automatic Gate Opener For Light Duty Single Swing Gates Up To 12 Feet Long or 300 Pounds (MM260)
The Mighty Mule MM260 Gate Opener is suitable for all light-duty swing gates that are 12 inches in length weighing 300 lbs. The gate opener is easy to install with an instructional manual and a DVD guide. The installation process ranges from 2-3 hours, which is minimal time when compared to other gate openers. In addition, applications range from residential to rural with this affordable, but high-quality gate opener.
Unfortunately, a 12v battery (a car battery will do) is needed that is not included in the kit. But, like many of the Mighty Mule openers, this model is capable of using solar energy. However, the solar equipment is sold separately.
Additionally, the manufacturer offers a 12-month warranty with this unit.
The strength of this product lies in its price, as it is very competitive when compared to other swing gate openers; and works well. Furthermore, customers have reported loud noises when the product is in operation.
Finally, there are options for both single and dual gate available for purchase.
Pros
Inexpensive, great value for money
Perfect choice for light duty swing gates
Works with different types of gates ornamental, vinyl, tube, panel, chain link and wood.
Easy-to-follow instructions with DVD guide
Solar Capable
24-hour technical support
Cons
Loud when operating
Less warranty time than other models
Looking for the perfect auto gate opener for heavy and long gates? Then the Mighty Mule MM560 Automatic Gate Opener is the ideal choice. It is designed for heavy-duty applications and is one of the best DIY projects in terms of installation time, thanks to it's an easy-to-follow instruction manual. Like other models from Mighty Mule, the MM560 is for gates that are heavy duty. Namely, a minimum of 18ft in length with an average weight of 850lbs.
Incorporating professional Grade Technology with many features, the MM560 is one of the most powerful heavy-duty auto gate openers on this list. It has the capacity to open gates of up to 850lbs or 18ft. in length. Additionally, this mighty gate opener is Solar Panel capable (sold separately as an accessory).
The MM560 incorporates an adjustable auto-close option with an alarm. This model comes with a soft start-and-stop to provide an extended life for the gate opener. Moreover, the MM560 has a control box and battery included in its performance kit.
This automatic gate opener by Mighty Mule is suitable for properties with large single leaf gates. Additionally, it offers good value for its price. The easy DIY installation is helpful, and the added benefit of the video step-by-step guide eliminates the need to have a technician present for installation. The whole process takes a few hours.
Pros
Professional Grade technology for optimum performance
Best choice for heavy-duty gates
Extra-large control box
Detailed manual with DVD for step-by-step video guide
Remote control
Built-in battery back up
Comes with an AC transformer for charging the battery
Durable ABS housing with cast aluminum mounting brackets
Cons
Slower than other gates
Solar kit not included
The Ghost Controls TDS2XP Heavy-Duty Solar Dual Gate Opener is one of the best dual swing gate openers and is the perfect solar-powered solution for dual gates. It works especially well with tubular style gates. This is an innovative gate opener system, specifically designed for offering a prime quality solution for residential and commercial properties.
The Ghost Controls TDS2XP Heavy-Duty Solar Dual Automatic Gate Opener comes with an operator arm and a 6-inch cable. The second operator arm comes with a 30-inch cable. Additionally, the kit comes with a 10-watt premium Mono-crystalline Solar Panel (non-diode for maximum charging potential). It also includes brackets, fasteners, and a mounting arm. These help attach the gate operator to the gate.
Furthermore, it includes an easy access lockable system control box included.
This gate opener can easily open and close any commercial gate that is 20ft in length. It is great value for its price, and this solar powered gate opener comes with a solar panel included, which is not the case for many of its competitors.
Pros
Quiet and swift post mount auto gate opener
Solar powered
Solar Panel included
Limited lifetime warranty on motor and gear
Lockable battery box
Easy to install with common tools
Cons
Could need other mounting tools for installation
8. TOPENS PW502 Automatic Gate Opener Kit Medium Duty Dual Gate Operator For Dual Swing Gates Up To 16 Feet Or 550 Pounds, Gate Motor AC Powered
This model is very cost-effective, suitable for all types of dual swing gates; considering it comes with two arms. It has capacity for gates up to 550lbs, or 16ft in length. Moreover, the arms are made of aluminum for durability.
Additionally, like many of Topens's competitors, this model offers easy to install DIY instructions with conventional tools.
More importantly, it includes a 12-month warranty, which is about average when compared to other manufacturers. However, clients do report very good 24/7 customer service, with quick responsiveness. This is very important for folks who are inexperienced in installing or troubleshooting these types of products.
On the other hand, gates can be configured to open outwards (push to open) or inwards (pull to open). The gate opener operates the opening and closing motions by using either a 12V battery as an optional setup, or connected directly to a power source. It also has the capability to go solar.
The TOPENS PW502 includes a soft start, slow stop feature for safety and extending the life of the product. Among other safe and convenient features are the programmable automatic closing time from 3 to 120 seconds. In addition, a release key is also included to change the gate opener from automatic to manual in case of loss of power.
A sensor for stopping the gates when objects are in the way is sold separately.
Pros
Inexpensive, very competitive price/li>
Controlling closing time
Remote is able to work from long distance
Solar panel compatible
Easy DIY
Aluminum arms
Cons
Average warranty
Does not include weatherproof casing for batteries and controls
This gate opener is an affordable option when compared to others in the review list. However, this model is not easy to install, it would take considerable time and effort to install the CO-Z gate opener because of its sliding gate system. You might consider technical help for the installation.
Although it is inexpensive, the CO-Z Automatic Sliding Gate Opener is a heavy-duty gate opener, which has the capacity to move gates that weigh up to 1400 pounds and are about 40 feet in length. This gate opener packs enough power to support heavy gates. This model is very customizable, and it can be programmed to use 23 different types of remotes.
Finally, it comes with an auto-close option with the additional feature of setting a time for the gate to close after 12, 24, and 36 seconds.
Pros
The RF hopping gives extra protection for the remote code
Ideal for powerful sliding gates weighing 1400lbs and over 40ft in length.
Add up to 23 extra remotes
Remote control has 4 buttons corresponding to open, close and stop
Set the time for the gates to close at 12, 24 or 36 seconds after opening
Cons
Does not run on batteries like other models
Difficult installation
10. TOPENS CK1200 Automatic Sliding Gate Opener Kit Sliding Gate Motor For Heavy Duty Slide Gates Up To 3400 Pounds And 40 ft, Chain Driven Driveway Security Slide Gate Operator
This is another model from TOPENS, but in their sliding gate version. However, this product, is more expensive than the other sliding gate openers on the list, as it is suitable for heavier and longer gates. Additionally, it can open gates of up to 3400lbs in weight or 40ft in length, positioning this model as a heavy-duty automatic gate opener. Moreover, it can be used for any type of sliding gate.
The TOPENS CK1200 is easy to install without any assistance or previous experience. On the other hand, this gate opener has an adjustable "pedestrian mode". The feature allows the gate to open just a few feet.
Similarly, it is possible to set up an auto-close time of 0, 30, 60 or 90 seconds if necessary. Furthermore, it has a built-in sensor to detect objects. A release key is included as well to switch to manual mode in case of a power outage or any other issue.
In line with its other products, TOPEN offers a 12 month warranty. The product uses a chain mechanism to open and close the gates, at around 8 inches per second.
Pros
Heavy duty-Up to 40ft. in length or 3400lbs
Easy to install
Pedestrian mode
Adjustable closing times
Cons
Average warranty
Mighty Mule MM572W 70 SERIES DUAL Automatic Gate Opener
We are here for comfort and safety. Promises that not any product can quickly offer – especially if it's a home security product like electric gate openers. Yet apparently, the maker of the Mighty Mule MM572W 70 SERIES DUAL Automatic Gate Opener swears to make our safety and convenience to be unrivaled.
Well, that sounds assuring (if not comforting). Still, we've dug deeper into Mighty Mule's first-ever smart DIY-friendly automatic gate opener to check whether this product is bet-worthy.
It's interesting to know how a security device can be smooth and straightforward. If we're shopping for an electric gate opener – as a DIYer or a tech-newbie – those features are big, right?
Mighty Mule gate openers are known for their easy installation. It is every user's wish to install a new product in the simplest way possible. Nobody wants to decipher complicated steps or jargon in a user manual!
Fortunately, the Mighty Mule MM572W is designed with do-it-yourselfers in mind. Having a technical support team that is ready to take your call 24/7 plus access to how-to videos online is indeed reassuring.
Now a smooth and reliable post-installation performance is another story. Without 100% reliability and no less than superb performance, then what's the point of installing an automatic opener, right? The good news is this Mighty Mule-made auto gate opener guarantees top-notch performance that is even 40% faster than previous models.
Everyone and everything has already gone "mobile" and that includes opening and closing your gate. With the Mighty Mule MM572W phone app, you can monitor and control your gate using your phone. It even allows you to "communicate" with your gate up to half a mile from your house.
We want to point out, however, that for it to be wireless-enabled (meaning operate it using your smartphone), we will need to purchase a wireless connectivity kit separately. Other than that, we think that this gate opener, given the benefits you will get, can be worth your every penny.
Product highlights
Perfect for heavy-duty double gate types
Ideal for gates up to 18 ft high and up to 850 lbs
Solar capable (with solar panel)
Backed with detailed instructions, 24/7 access to videos online, and tech support
Package includes: 2 x gate openers, 1 x remote control with a visor clip, 12V battery, control box, mounting hardware, and a user guide
Add-ons: 10-watt solar panel (for solar capability), MMS100 Wireless Connectivity Kit (for your smartphone)
Product warranty – Yes (18 months)
Product Review: Mighty Mule MM372W Automatic Gate Opener DUAL SMART, Black
We're here for a Batman-esque automatic gate-opening scenario. Well, yes in a much more realistic setting. Whether it be for your farmland, commercial property, or home, if you're looking for a smart way to open and secure your driveway gate, then the Mighty Mule MM372W could be your best bet.
This model is one of Mighty Mule's fresh line of smart gate openers. Being made by a brand that's affiliated with a leading security and control company, we can be assured at least of a quality-made product.
Looking further into this smart dual gate opener, we've unlocked some innovative features that will give you a taste of the "high-tech" Wayne Manor. The makers of this advanced technology had beginners in mind when they designed it. That's a plus especially if you want to stash away some cash instead of spending it on labor.
The Mighty Mule brand boasts of its smooth and reliable post-installation performance. It gives you the ability to open and close your gate via a mobile app installed on your phone even if you're still half a mile away from the gate. Now that's powerful.
Again, this product promises a quick and easy installation process. So if you prefer to do it on your own, that won't be an issue.
You will also be backed not only with easy-to-follow instructional materials (both in written and video tutorial formats) but also with 24/7 customer support.
If you have a dual swing gate or fence, then there is no reason to miss the opportunity to enhance your security and comfort with a good quality automatic gate opener.
Product highlights
Excellent for medium-duty double gate types
Designed for gates up to 16 ft high and up to 550 lbs
Solar capable (with solar panel)
Comes with detailed instructions, access to tutorial videos online, and 24/7 tech support
Package includes: 2 x gate openers, 1 x remote control with a visor clip, A/C transformer, control box, mounting hardware, and a user guide
Add-ons: 10-watt solar panel (for solar capability), MMS100 Wireless Connectivity Kit (for your smartphone)
Product warranty – Yes (12 months)
Advice On Getting The Best Gate Opener
An electric garage gate opener is a practical tool. Garage gate openers can be mounted on different garage gates, such as sliding gates, single leaf or two leaf gates, swing gates, and overhead doors. With a garage gate opener system, the gate is automatically set in motion by radio transmission.
Gate opening systems that are operated via remote control are highly recommended, as these openers offer many advantages.
Key Advantages Of Installing An Automatic Gate Opener
There are several advantages of installing automatic gate openers. They are suitable for different gates, such as swing, cantilever, boom, and sliding. Some of the other advantages of gate openers are:
Convenient For Drivers
Having an electronic gate opener installed makes it easier for drivers to enter and leave the property without having to get out of their cars. The system ensures that the gates are locked up properly after a driver has left the premises.
Secure And Safe
Thanks to their electronic lock capabilities, you'll feel comfortable around your property. Most models come with integrated safety mechanisms that keep the premises secure from trespassers.
Durable
These gates are designed to be durable, they are created with precision-based technology. They are mostly immune to changing weather conditions.
Adding Value To Property
Automatic gates by famous brands are customizable. They can easily accommodate different gate designs. These gate openers will add value to the property. Having automated gates is a huge advantage for an owner who is looking to add value to their overall property.
Buying Tips For Gate Openers
Here are some buying tips for gate openers
Quality Of The Material
When buying a garage gate opener, make sure that the gate opener motor(and its accessories) is efficient and made from high-quality materials.
Maintenance Free Components
All moving parts, such as springs, hinges, rollers, and ropes, should ideally be maintenance-free. It is best if the components are galvanized and provided with a coated corrosion inhibitor to protect against corrosion.
Easy To Assemble
When buying a gate opener, make sure it includes a detailed and clearly understandable assembly or installation manual, and operating instructions are included in the delivery kit. While this may sound obvious, many gate openers don't come with an easy-to-follow instruction manual.
Easy to Operate
The gate opener should not only be quick and easy to install, but it must be easy to operate. A properly equipped electric door opening system can be easily programmed. The handheld transmitters should be easy to use and have a reasonable range.
Guarantee And Warranty
Another important point when buying a gate opener is the warranty and guarantee offered by the manufacturer. Even if high-quality equipment is maintenance-free, it is susceptible to damage. Many manufacturers offer a warranty period of up to 5 years.
Suitable For the Property Gate
Not all gate openers are suitable for every gate. It is important to take measurements of the gates and select a product that will be able to handle the weight and length of the gate.
In most cases, swing gates are single-walled and need a lot of space. Sectional doors or roller shutters consist of several insulated panels and run vertically upwards. Hence, the vehicle can stand in front of the garage for opening and closing.
Even more space-saving is a sliding gate. This information can be read carefully in the product description of the gate opener.
Temperature Range
Almost all garage door operators can be properly locked from the interior or exterior of the property, but make sure when buying that the device works well with changing temperatures. Many high-quality drive systems work at temperatures between 10 degrees Celsius below 0 and plus 40 degrees Celsius. This information should be clearly visible in the set-up and operating manuals. Additionally, the device should be waterproof.
Traction And Running Speed
The traction and running speeds are important indicators of a gate opener's performance. Good quality gate openers offer a pulling force of 500N to 700N. The maximum running speed of the door drive should be at least 11 centimeters per second.
Safety Equipment
High-quality gate opener systems are tested and equipped with different safety mechanisms. Moreover, garage door openers tend to have an automatic obstacle detection function. In the event of a power failure, it is important that the door can still be operated via an emergency release, this aspect is particularly important if only one input and output is available.
Thanks to these safety devices, the risks of injuries are minimized. Additionally, an integrated mechanical lock in the driveway increases security against burglary. The door operator should have integrated thermal protection, especially when used frequently. Namely, if the device overheats, it must shut off automatically.
An Emergency Release
An emergency release is very important for a gate opening system. It allows the garage door to open when the electric drive stops working or the power supply is interrupted. Nevertheless, it is not included in the price of many systems.
Many garage door operators are equipped with LED lighting, which is activated either by a motion sensor or by opening or closing the door. If the garage door operator has LED lighting, it is important that the unit includes an auto shutdown function.
Power Consumption
Since electric garage door operators are always online, you should know how much power is being consumed. However, most of the equipment available today are energy-efficient and cost-effective in terms of power consumption. Usually, the energy values from the corresponding garage door drive should be noted in the product information.
5 Things You Should Know Before Buying A Gate Opener
It Has to be the Correct Size
The right size is one of the main factors for a gate opener. Each auto gate opener, in general, is designed to only work for gates of a certain weight.
For example, wrought iron gates are very heavy. So openers may not work for them. Hence, buyers should always check their gate's weight prior to purchasing an opener.
It Needs to Fit the Budget
Price is another important factor in buying a gate opener. Because many of them come in systems. And gate openers can be very expensive, costing upwards of hundreds of dollars.
They vary in price because there are different systems, such as gate openers that slide in order to open, to those that pull apart to open.
Gate Openers Require Maintenance
Automatic gate openers are vulnerable to cold weather and low temperatures. Metal components will contract as the temperature drops, and unless you are using a gate that is only intended for lower temperatures. The grease will thicken as well. These things make it harder for the gate to move and open more power.
So keep an eye on the maintenance requirements of your particular gate opener.
Laws Surrounding Automatic Gate Openers
There are quite a few legal codes that come with owning auto gate openers. Gate opener safety is an important requirement that should never be overlooked.
Some of these codes are known as Local Fire Codes. Local Fire Codes are codes that regional and local fire departments must abide by. These codes enforce that automatic gates must have a minimum opening clearance so that they can access the property in the case of an emergency.
Additionally, electrical Codes often apply to automated driveway gate installation. Generally, the electrical supply for the gate will need to be verified by a qualified electrician and, in some jurisdictions, the low voltage control wiring for the gate as well.
A Camera is a Great Companion
Cameras provide extra security and even more convenience when combined with an automatic gate. You should definitely keep this in mind when looking at gate options.
Top Brands For Automatic Gate Openers
The following are the top brands of auto gate openers:
Mighty Mule
Mighty Mule is one of the leading gate opener companies. It has a variety of models that are designed to cater to all kinds of gate types and weights. These devices are suitable for heavy-duty applications for gates weighing between 700lbs and 1200lbs. Additionally, the devices manufactured by Mighty Mule come with an easy-to-use installation guide with a DVD. Extended warranty by Mighty Mule is an added bonus.
US Automatic Sentry
Another leading brand for door openers is US Automatic Sentry. This company manufactures gate openers and accessories. Their products come with a feature called Sentry Plug N Go, a wiring harness that does not depend on wiring and makes the installation of this product easy.
The linear actuator provides around 400lbs of thrust and compression ratings equal to 1000lbs. The power allows the gate to open and close in 16 seconds. These Sentry gate openers are best suited for large gates in homes, farms or other commercial centers. The latest option for heavy ornamental iron gates goes up to 12ft long and supports chain link up to 14ft.
The US Automatic Sentry gates are heavily customizable with unique features that are hard to find anywhere else.
Ghost Controls
The Ghost Controls gate opener is the best swing gate opener in regards to a seamless solar-powered solution for dual gates at farms or any other commercial property. This is an innovative gate opener system, specifically designed for offering a prime quality solution for commercial properties.
ALEKO
Another popular brand on the list is ALEKO. An ideal option for large and heavy sliding doors. Additionally, the pricing makes it an ideal choice. Namely, the products by ALEKO are affordable for the power they provide.
The chassis is made from steel that gives added strength to move gates that weigh 1400lbs and are over 50ft in length. And, the gate openers by ALEKO are lightweight despite the powerful motor and steel chassis.
E8 Gate Openers
The E8 gate opener is an impeccable choice for residential and commercial properties with 2 leaf gates. Affordable and sturdy, the gate openers from this brand include a one-year manufacturer warranty. The backup battery included in the kit is a lifesaver during emergencies such as storms.
Frequently Asked Questions
Will the gate opener work in case of a power failure or can it be opened manually?
Yes, the gate opener can still be opened manually if backup power fails. There is a release cable on the device that allows opening of the gate manually. If the garage does not have a second access point, the release cable is usually attached to the door handle with a Bowden cable. With your garage key, you can unlock the gate, turn the handle and unlock the drive.
Can other radio devices interfere with the operation?
No, because most devices rely on special frequency (868.8 MHz) for the remote control, which is only used by devices with extremely low frequencies. Wireless headphones and baby monitors, for example, are on a completely different frequency and do not get in the way.
Can I protect myself against the unauthorized opening of a garage door if I ever lose the remote control?
Yes. Each hand-held transmitter has an individual code, which the receiver takes from the hand-held transmitter. It is possible to delete the portable transmitter in the radio receiver without the presence of the other handheld transmitters.
Conclusion
A good gate opener should have a soft start and soft stop. The handheld transmitters of the garage door opener should be visually appealing, user-friendly to use, and offer a reasonable range via radio control.
Grid-independent models that are powered by a battery or a solar panel are useful almost anywhere, even where no power source is available. We hope this guide will help you find the best automatic gate opener, and feel free to drop us any questions.
Related Buyer's Guides and Tools Lists: